Product
overview
World's first Inflight Safety Monitoring System (ISMS), this edge computing technology acquires data directly from Arinc 717 and 429 Databuses and continuously analyzes data from onboard computers in flight. Star provides an innovative real-time Aircraft Health and Monitoring system by proactively analyzing aircraft data inflight and enroute, with the ability to continuously scan aircraft avionics systems and send critical parameters, alerts and exceedances through Iridium satellites in real time for proactive safety and engine health monitoring.
As an aviation partner to Iridium, Star provides true global coverage, including in polar regions through the Iridium satellite network. With uptime reliability of 99.9%, your teams are always connected and in control.
Inflight Analysis
Continuous Inflight monitoring of aircraft computer systems by acquiring data directly from Arinc 717 and 429 data busses and Derive prognostic insights and create customized alerting algorithms unique to airline's operation.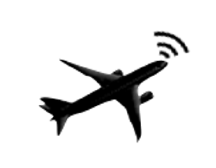 Flight Data Transfer
Using Iridium Satcom inflight, Cellular GSM post flight and ability to retrieve manually from USB port. Automatically transmits Black Box (Digital Flight Data Recorder) data during distress to meet GADSS mandate.
Global Coverage
Analyze data onboard and make decisions quicker, rather than send data to cloud and thereafter to the ground for analysis. 
Inflight Analysis
Send key parameters to ground operators to build safety, engine and flight trends to detect patterns for failure that can enhance safety, reduce Aircraft on Ground events, etc.
Onboard Analysis
By analyzing data onboard rather than send it to a cloud server, the STAR-ISMS saves operators costs by transmitting only key parameters, alerts, anomalies and exceedances to the ground using satellites.
Hardware purchase, financing and leasing options available.
Various software features available through an affordable SaaS pricing model. For Accurate pricing, contact a technical sales expert.